$180 Will provide a new water well and pump for a family in Vietnam - See our "Water for Life" page
$ Any Amount $ Would be greatly appreciated and saved in our "General Fund" until we have adequate funds to provide another classroom project, or provide another school with a safe, clean source of water. Also, each year we support a medical project for an indivdual.
As you can see whether you've donated $1 to put a new pair of rubber sandals on a patient's feet and smile on their face, or $700 to provide a source of essential fresh water, the result is the same…You've made a difference. As you can see from the list of "New Projects", we have big goals planned to continue making a difference in the lives of the underprivlidged in Southeast Asia, but we can't do it without your help.
Lemonade Stand Fundraiser
Vitamin donation for Philippine families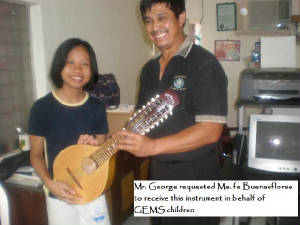 George Gange Donates Philippine Instruments